AMDISA's HOMAGE TO Dr. A P J ABDUL KALAM
FORMER PRESIDENT OF INDIA
AMDISA pays homage to Dr A P J Abdul Kalam, a great teacher, as he himself loved to be called. Dr Kalam was the Chief Guest at AMDISA's Flagship Conference, "12th South Asian Management Forum" (SAMF) held from 14th to 16th February, 2013, hosted by Indian Institute of Cost and Management Studies & Research (INDSEARCH) at Pune, India. AMDISA has fond memories of Dr. A P J Abdul Kalam's visit as Chief Guest at AMDISA's flagship event. As a homage to the departed soul, we give below glimpses of Dr. Kalam's visit to AMDISA's conference and also a video view of the speech delivered by him.
Former President of India, Dr Avul Pakir Jainulabdeen Abdul Kalam, fondly called APJ Abdul Kalam, passed away on Monday, 27th July, 2015 evening in Shillong, Meghalaya, where he had gone to address the Indian Institute of Management (IIM). According to local media reports, he suffered cardiac arrest and was immediately rushed to the hospital. The demise of former president APJ Abdul Kalam has left the nation shocked.
Dr Kalam is also known as people's President and Missile Man of India, A scientist, politician, author and professor, Dr Kalam inspired millions of people from around the world. Dr Kalam was a visionary full of energy and enthusiasm.
India lost a great hero and friend of children and youth of our times. AMDISA fraternity feel deeply grieved by the sad news about the unexpected demise of Dr Abdul Kalam. A man with profound knowledge, inspiration to entire nation, his teachings and ideas will long live in the hearts of everybody. His death is an irreparable loss to our nation which created a big void impossible to fill. We revere in the bright memory of him. AMDISA pays tribute to the departed soul and may his soul rest in peace.
Please click the link below for audio-visual presentation of the Inaugural of South Asian Management Forum at which Dr A P J Abdul Kalam was the Chief Guest.
---
Extract of an Editorial published in AMDISA Newsletter, Volume-24, September 2003
"A Conversation with the President of India, Bharat Ratna Dr. A.P.J. Abdul Kalam"
The Editor Dr. Ashok Joshi, Director, Indian Institute of Cost and Management Studies & Research (IndSearch), Pune, had a meeting with the President of India, Dr. A.P.J. Abdul Kalam on Wednesday, the 10th September 2003 at Rashtrapati Bhavan, New Delhi.
During the meeting, Dr. Kalam expressed concern over the slow pace in adoption of Hi-Tech processes and quality improvement in small-scale industries. The SSI sector provides considerable employment and contributes substantially to the GDP of the nation, but these units are cash starved as credit is squeezed by the large-scale industries. Dr. Kalam suggested that management schools could develop concrete programmes incorporating and emphasizing the development of entrepreneurship amongst young professionals. These professionals will be able to establish viable and vibrant units in the future. This would improve the health of the small-scale sector.
Dr. Joshi briefed the President about the recent study conducted by the Indian Institute of Cost and Management Studies & Research (IndSearch), Pune, for the Comptroller and Auditor General of India on improving the financial performance of State Public Sector Undertakings in India. The President noted with interest the findings of the study. He added that such studies would provide the framework for optimum utilization of scarce financial resources, thereby converting state PSUs into vibrant profitable units. It would then be possible for state PSUs to offer quality goods and services at affordable prices. Dr. Kalam also expressed the view that developments in high technology area could play a vital role in improving the performance of PSUs.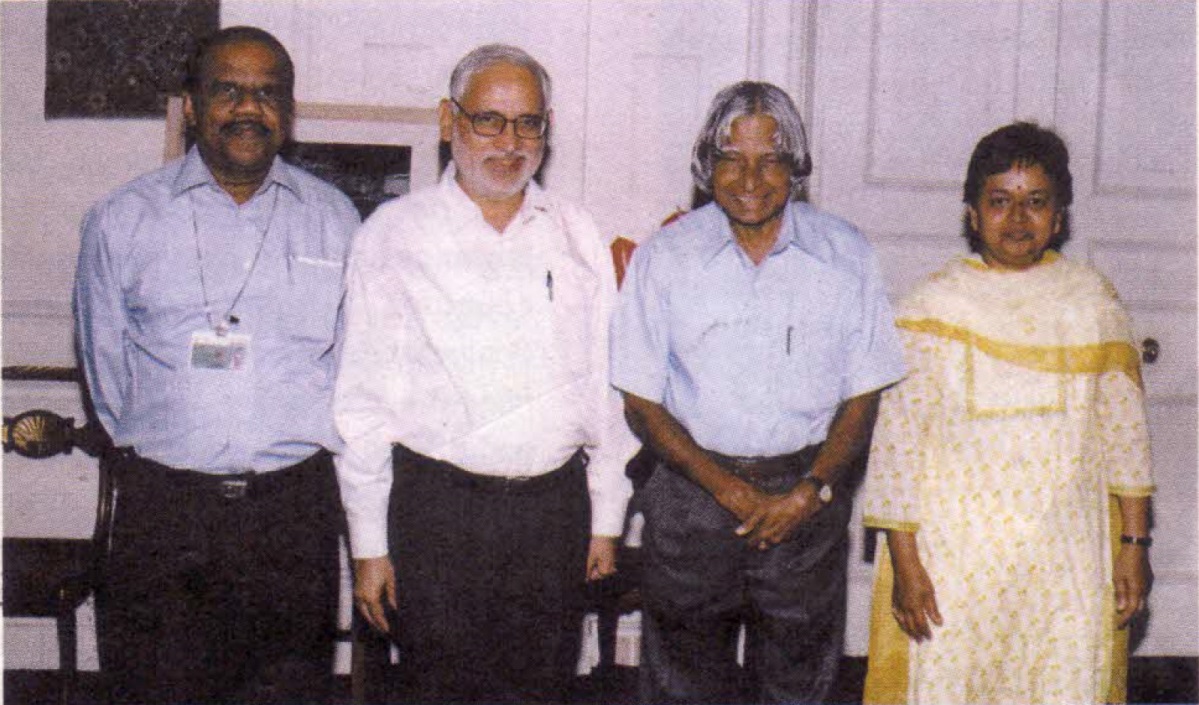 L to R: Dr. Sivathanu Pillai, Dr. Ashok Joshi, President of India Dr. Kalam and Ms. Sunita Joshi at Rashtrapati Bhavan, New Delhi.
The President was informed about the ongoing activities of AMDISA and AIMS in the area of development of management education with focus on encouraging quality management and good corporate governance. In response, Dr. Kalam suggested that network of Business Schools could play a vital role in consolidating trained manpower in various functional areas of management and the field of Information Technology in particular. He stressed the possibility of South Asia offering the world a network of trained management professionals at competitive costs under the cooperative endeavour of Business Schools. This intellectual consolidation and collaboration in South Asia would enhance the economic development of the area and improve the existing strength in specific functional areas of management prevailing in the SAARC countries. This would contribute to improving the quality of life in the SAARC nations.
Distinguished Scientist, Padmashree Dr. A. Sivathanu Pillai, Chief Controller of R & D – DRDO, Government of India and Honorary Professor of Technology Management at IndSearch and Ms. Sunita Joshi, faculty member – Indsearch, were also present during the meeting with the President.
---