68th Executive Board Meeting
On 25th July, 2017 at Colombo, Sri Lanka
68th Executive Board Meeting of AMDISA was held at PIM, Colombo, Sri Lanka on 25th July, 2016. Prof. Lakshman R Watawala, President – AMDISA and President, Institute of Certified Professional Managers, Colombo chaired the Meeting.


The highlights of the meeting were:
i)
The following changes in the composition of the Executive Board:
a. Prof. Rajendra Srivastava has taken over as Dean, Indian School of Business, Hyderabad.
b. Prof. Podile Appa Rao has taken over as Vice-Chancellor, University of Hyderabad.
c. Dr. Shahid Amjad Chaudhry, Rector, Lahore School of Economics, Lahore, Pakistan has taken over as President of AMDIP.
d. Prof. M. S. Laxmi Nanayanan has taken over as Acting Director of IFIM Business School, Bangalore.
ii)
Approval of the accounts for the financial year 2015 – 2016.
iii)
Appointment of Auditors for the financial year 2016-2017.
iv)
To convene a Meeting of the Primary Core Group on AMDISA's new initiative, Corporate Learning Improvement Process (CLIP) early to move forward on the initiative.
v)
Membership Admission Committee to develop a criteria and application format in respect of companies with corporate learning centers to become AMDISA Institutional members.
vi)
AMDISA has received the following renewals :
a. SAARC Certificate of Recognition for 3 years till 30th April, 2019.
b. Renewal of Registration under FCRA, 2010 by the Government of India for a period of 5 years.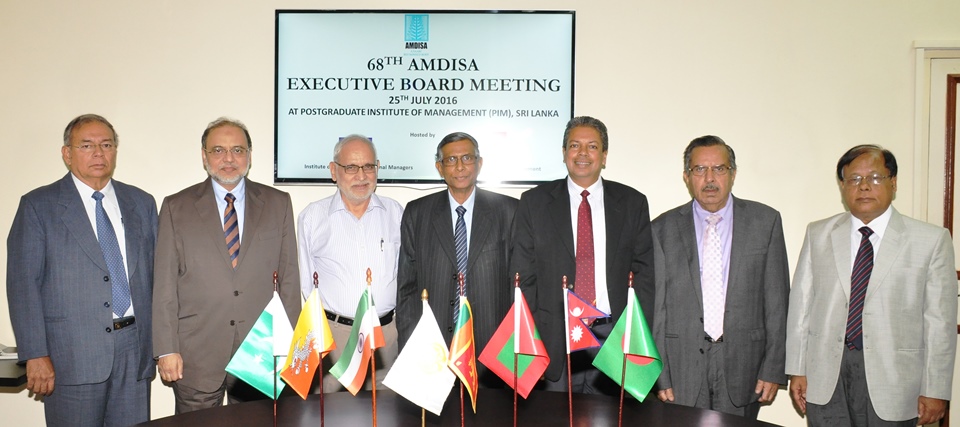 L to R : Mr. C. Ramakrishna, Dr. Hassan Sohaib Murad, Dr. Ashok Joshi, Prof. Lakshman R. Watawala,
Prof. Ajantha Dharmasiri, Prof. Siddiqui Nisar Ahmed and Prof. A.K.M. Saiful Majid
vii) Ratified the decision of the Membership Admission Committee in respect of the following Institutions:
a. Bangladesh University of Business Technology, Dhaka, Bangladesh
b. School of Business, Uttara University, Dhaka, Bangladesh
c. Woxsen School of Business, Hyderabad, India
d. KIIT School of Management, KIIT University, Bhubaneswar, India
e. Daffodil International University, Dhaka, Bangladesh
f. AIMS Institute of Higher Education (AIMS School of Business), Bangalore, India
g. SVKM's Narsee Monjee Institute of Management Studies, Secunderabad, India
h. Jaipuria Institute of Management, Jaipur, India
i. School of Management, BML Munjal University, Gurgaon, India
viii) The following institutions have entered the SAQS Accreditation and Re-accreditation process:
a. Institute for Financial Management and Research (IFMR), Chennai, India (New Institution)
b. Institute of Business Administration (IBA), Karachi, Pakistan (Re-Accreditation)
c. International Management Institute (IMI), New Delhi, India (Re-Accreditation)
d. Institute of Management Technology (IMT), Ghaziabad, India (Re-Accreditation)
ix) Dr. Hasan Sohaib Murad, Rector, University of Management and Technology (UMT), Lahore, Pakistan informed the Board that the next South Asian Colloquium on Doctoral Programs (SACDOC) and Conference on Deans & Directors are scheduled on 6th, 7th, & 8th February, 2017 at Islamabad, Pakistan in association with AMDISA, NBEAC & Commonwealth Secretariat.
x) The 14th SAMF will be hosted in March, 2017 by Maldives National University (MNU), Male, Maldives as agreed by Mr. Shathif Ali, Vice President-AMDISA and Dean, Business School, MNU, Male, Maldives.
---
About AMDISA
AMDISA is an international not-for-profit association. It is a network of Management Education and Management Development Institutions.
Our Office
AMDISA Secretariat,
University of Hyderabad Campus, Central University Post Office,
Gachibowli, Hyderabad – 500 046, Telangana State, India