61st Executive Board Meeting
From 2nd to 5th February, 2022
The 61st Executive Board Meeting of AMDISA along with an International Conference on the theme "Managing Enterprises : Challenges & Opportunities" was held on September 12 - 13, 2013, hosted by Institute of Certified Professional Managers (CPM), Colombo in collaboration with AMDISA. The venue of the Executive Board Meeting was at Sri Lanka Institute of Development Administration ( SLIDA), Colombo, Sri Lanka, an AMDISA Member Institution.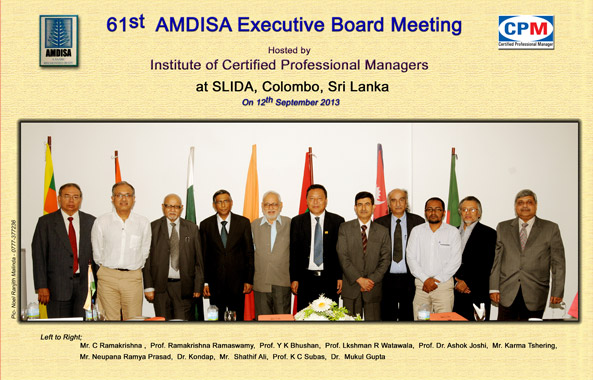 President AMDISA and Director IndSearch, Dr Ashok Joshi chaired the EB meeting.
Highlights of the Meeting:
1. Program proposals submitted by Member Institutions seeking collaboration with AMDISA were accepted in principle and it was decided to work out the modality in this respect by the Local Management Committee.
2. SAARC Apex Body Status for AMDISA – It was decided to appoint the Task Force for effectuating Apex Body Status for AMDISA.
3. AMDISA-Corporate Learning Improvement Process(CLIP)
- New Initiative
With a view to giving new impetus to Academia-Corporate interface, exploratory discussions have begun by AMDISA for evolving a visible and effective Corporate-Academia interface more specifically in the context of corporate learning organizations and developing an accreditation system for such organizations on the lines of EFMD-CLIP. It is proposed that AMDISA-EFMD work together on this as EFMD has the expertise and credibility in this area. AMDISA president Dr. Ashok Joshi has held initial discussions on this with Prof. Eric Cornuel, Director General, EFMD, and a primary Core Group has been constituted to conceptualize and strategize the process and also to work on the modalities for a brain storming session on the same.
4. It was tentatively decided that the next Executive Board Meeting of AMDISA would be held in Hyderabad, India in end March/early April, 2014 along with an event. School of Management Studies (SMS), University of Hyderabad (UoH) will host the event and the Executive Board Meeting.
---
---
About AMDISA
AMDISA is an international not-for-profit association. It is a network of Management Education and Management Development Institutions.
Our Office
AMDISA Secretariat,
University of Hyderabad Campus, Central University Post Office,
Gachibowli, Hyderabad – 500 046, Telangana State, India