16th South Asian Management Forum (SAMF)
Theme: "Impact of Pandemic on Business and Management: Strategies for Sustainability and Growth"
On 17th and 18th December, 2021 at IUBAT, Dhaka, Bangladesh
South Asian Management Forum (SAMF) is a biennial conference organized by the Association of Management Development Institutions in South Asia (AMDISA) by rotation in all the South Asian (SAARC) countries. The key objective of the conference is to explore the main issues allied with economic & social growth and development of the South Asian region. The conference provides a platform for scholars, thinkers, researchers, academicians, practitioners, and business leaders to share their philosophical thoughts, the conceptualization of ideas and empirical evidence.
The 16th SAMF was hosted by IUBAT— International University of Business Agriculture and Technology, Dhaka on 17th and 18th December, 2021 at IUBAT campus, Dhaka, Bangladesh through hybrid mode. The theme of the forum was "Impact of Pandemic on Business and Management: Strategies for Sustainability and Growth" with the aim to provide a platform to bring together participants from different countries to exchange views and share experience on the theme.
Inaugural Ceremony of 16th SAMF on 17th December, 2021 was graced with the presence of Chief Guest, Mr. M. A. Mannan, Hon. Minister, Ministry of Planning, Government of the Peoples' Republic of Bangladesh. Prof. Dr. Syed Mir Muhammad Shah, Vice Chancellor, Sukkur IBA University, Pakistan and President, AMDISA was connected online as the Special Guest of the ceremony.
Dr. Dharni Sinha Memorial Lecture, instituted in the memory of Dr. Dharni P Sinha, the founder and 1st President of AMDISA is held at every SAMF. The lecture in the 16th SAMF, the 4th in the series, was delivered by Prof. Dr. Ajantha Dharmasiri, Former Director, Postgraduate Institute of Management, University of Sri Jayewardenepura, Colombo, Sri Lanka.
Keynote Speeches were delivered by Prof. Dr. Syed Zahoor Hassan, Professor Emeritus, Lahore University of Management Sciences (LUMS), Lahore, Pakistan and Mr. Shehzad Munim, Managing Director, British American Tobacco Ltd., Dhaka, Bangladesh.
Inaugural Ceremony was concluded by Prof. Dr. Abdur Rab, Vice Chancellor, IUBAT

Delegates who participated through physical mode at 16th SAMF held at Dhaka, Bangladesh
Over 97 abstracts and 51 research papers from different countries of the world were received in the forum. Among the papers and abstracts, 25 were from India, 3 from Sri Lanka, 3 from Nepal, 2 from Maldives, 2 from China, 2 from Malaysia and 60 were from Bangladesh. Researchers and educationists from these countries presented papers and abstracts in parallel sessions on management, digital education, healthcare services, human resources, finance, marketing and research focusing on the strategies to meet the challenge posed by Covid Pandemic. These were supplemented by a Panel session and a Round Table for the business executives.
Panel Session was held on 18th December, 2021 at 2:00 PM moderated by Dr. S Padam, Chairman, SAQS Accreditation Awarding Committee of AMDISA and other panelists were Dr. Sita Vanka, Former Dean and Professor, School of Management Studies, University of Hyderabad and Dr. Shailendra Raj Mehta, President & Director, MICA, Gujarat. Policymakers from more than 15 business organizations participated in roundtable sessions.
Valedictory Ceremony of 16th SAMF was held on 18th December, 2021 at 3:00 PM. The Ceremony began with national anthem followed by homage to the freedom fighters. Prof. Dr. Khair Jahan Sogra, Dean of College of Business Administration offered welcome address and Mr. Hasanuzzaman Tushar, the Conference Manager reported on the two-day conference activities.
Dr. Shamsul Alam, Minister of State, Ministry of Planning, Government of Bangladesh was the Chief Guest of the Valedictory ceremony.
The SAJM best paper award was instituted in the name of Prof. Mathew J Manimala who is the longstanding editor of South Asian Journal of Management (SAJM) for the last 22 years. The 1st MATHEW J MANIMALA-SAJM BEST PAPER AWARD was presented to the authors Mr. Manisekaran Thangavelu, Dr. Venkataraghavan Krishnaswamy and Dr. Mayank Sharma of the paper titled: "Comprehensive Information Security Awareness (CISA) in Security Incident Management (SIM): A Conceptualization", published in the April - June, 2020, Volume 27, Issue 2 of the SAJM. TheBest Paper for this award was selected from amongst 56 papers published in the 8 issues of the SAJM, published by AMDISA during 2019 and 2020.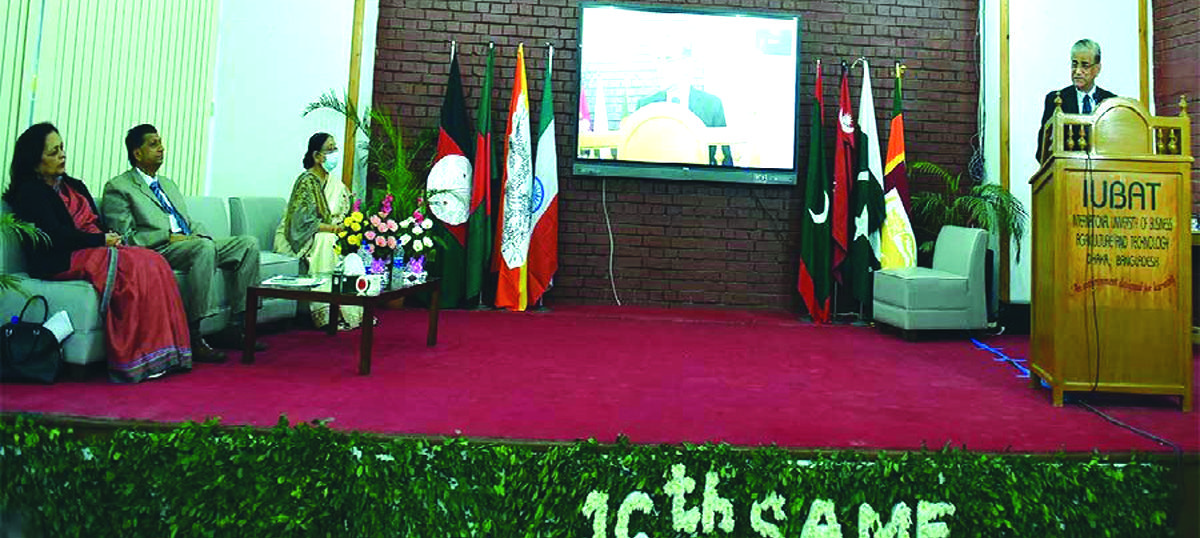 Dr. Shamsul Alam, Minister of State, Ministry of Planning, Government of Bangladesh addressing the delegates at the 16th SAMF
Prof. Mohammad Abdul Momen, Director, Institute of Business Administration (IBA), Dhaka and Vice-President, AMDISA was connected online as the Special Guest of the ceremony.
In the presence of the IUBAT Pro Vice-Chancellor Prof. Dr. Hamida Akhtar Begum and the large audience, the Vice-Chancellor Prof. Dr. Abdur Rab presented crests to the Chief Guest and the Special Guest.
In his presidential speech, Prof. Dr. Abdur Rab stated that Bangladesh got the opportunity of hosting the Forum after 14 years and IUBAT is proud to be the host. He expressed optimism that the Forum shall play vital role in guiding the business organizations of the region in addressing challenges of Corona pandemic. IUBAT shall continue its effort to organize similar events for businessmen, policy makers and the other organizations.
---
About AMDISA
AMDISA is an international not-for-profit association. It is a network of Management Education and Management Development Institutions.
Our Office
AMDISA Secretariat,
University of Hyderabad Campus, Central University Post Office,
Gachibowli, Hyderabad – 500 046, Telangana State, India